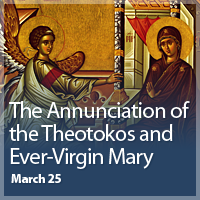 ---
Parish Council Meeting
Feb 8 7 pm
Bible Study & Discussion Group
Feb 10 6 pm
Dayton GOYA Basketball Tournament
Feb 12
Dayton, OH, USA
Orthodox Action Soup Kitchen
Feb 13 10 am
Demakos Community Center
Greek School
Feb 13 10:30 am
Sunday School Bake Sale
Feb 14
Divine Liturgy
Feb 14 9 am
Hellenic Orthodox Church of the Annunciation, 146 West Utica Street, Buffalo, NY 14222, United States
Library Story Time
Feb 14 12:15 pm
Library
The Faith: Adult Orthodox Class
Feb 14 1 pm
Taverna
Bible Study & Discussion Group
Feb 17 6 pm
Greek School
Feb 20 10:30 am
JOY/HOPE: Bounce Magic
Feb 21
Bounce Magic, 4090 Maple Rd, Buffalo, NY 14226, United States
Divine Liturgy
Feb 21 9 am
Hellenic Orthodox Church of the Annunciation, 146 West Utica Street, Buffalo, NY 14222, United States
The Faith: Adult Orthodox Class
Feb 21 1 pm
Taverna
Bible Study & Discussion Group
Feb 24 6 pm
Presentation: Journey's End
Feb 25 7 pm
Services Schedule
Sundays: Orthros (Matins): 9:00 am - Divine Liturgy: 10:00 am
Sunday School: Begins following Holy Communion
Weekdays: Orthros (Matins): 9:00 am - Divine Liturgy: 10:00 am
For information on our services please contact the Church office at (716) 882-9485 between the hours of 9:00am-4:00pm, Monday through Friday.
---
News
Final details for the trip will be made available on Facebook. We will be leaving Friday February 12th from the Walker Center and Returning the 14th. All participants are required to complete a waiver for the trip......
Membership for 2016 has begun & suggested minimum stewardship is $25. Out of the total $16 goes to National & $5 to Metropolis. Please give what you are able. St Nicholas Shrine: Philoptohos has reached our goal of raising $10.000 to help rebuild St Nicholas church at Ground Zero.
Gift Registry for Babies-R-Us / Jericho Road: We have received the list of items that can be used for the Philoptochos Christmas project for Jericho Road Ministries. These items were loaded into a Gift Registry at Babies-R-Us, and you can make your purchase either in person, online, or over the phone. These purchases can also be shipped directly here to our Church, and they will come in to the attention of our Women's Philoptochos Committee....